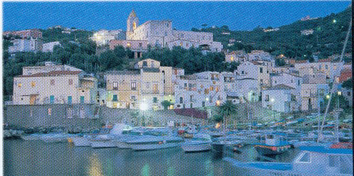 The Sorrento Peninsula extends from Castellammare di Stabia to Punta Campanella, in front of Capri island. It is one of the most charming seashores, with its picturesque small villages perched on the imposing high cliffs which form the peninsula.
The tour starts from the ancient remains of the town of Stabia, where we will visit the renowned Villa San Marco and Villa Arianna, two Roman dwellings which were covered under ash and pumice stones during the eruption of Mount Vesuvius in 79 AD. After the visit of those splendid examples of Roman opulent villas, we will move towards the town of Sorrento, one of the destinations of the Grand Tour. Along the way we will enjoy the marvellous scenery: the gulf of Naples which opens up in front of us, the hills covered with olive trees, trellis, vineyards and the lemon trees which produce the best lemons used to make the celebrated "limoncello" liqueur.
The town of Sorrento is the ideal place for a stroll which will take us back in time.
We will visit the Church and cloister dedicated to Saint Francesco, the public gardens, the ancient town centre and Piazza Tasso, the core of this faboulous resort town.





*
*
*
*
*
*
*
*
*
*
*
*
*
*
*
*
*
*
*
*
*
*
*
*
*
*
*
*
*
*
*
*
*
*
*
*





For further information please send an e-mail to:

or please call the following mobile phone number


339 3982433

Dott.ssa Maria Sannino


Qualified Tourist Guide

English – Japanese – Spanish - French - German
Campania Region
www.ercolanonline.it
www.herculaneum.net
www.mariasannino.com
www.qualifieditalianguides.com

***********************************
AMAZING WALKING TOURS

AVELLINO

and SURROUNDINGS

Avellino Town Centre
Tracking Templars
Food and Wine Tasting Tour




BENEVENTO

and SURROUNDINGS

Benevento Town Centre
Food and Wine Tasting Tour




CASERTA

and SURROUNDINGS


Caserta Royal Palace
Casertavecchia

Saint Angelo in Formis

Food and Wine Tasting Tour
NAPLES and SURROUNDINGS

Angevin Castle
Naples (Ancient town)
Naples Capodimonte Royal Palace
Naples National Archaeological Museum
Naples Royal Palace
Naples (Views on the bay)
Castle of the Egg
Saint Elmo Castle
San Martino Charterhouse
Tracking the Templars
Mysterious Naples
Film Location Tours
Art and Religion Tours
Food and Wine Tasting Tour

Baia
Capri
Cumae
Ercolano (The ancient town of Resina)
Ercolano ( Vesuvian villas)
Herculaenum
Ischia
Oplontis
Phlegreian Fields
Pompei
Portici Royal Palace
Pozzuoli
Procida
Sorrento
Sorrento Coast
Stabiae
Food and Wine Tasting Tour


SALERNO

and SURROUNDINGS

Amalfi Coast
Castelcivita Grotto
Cilento Coast
Padula Charterhouse
Paestum
Palinuro Grottos
Food and Wine Tasting Tour