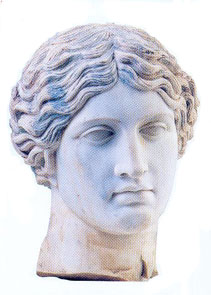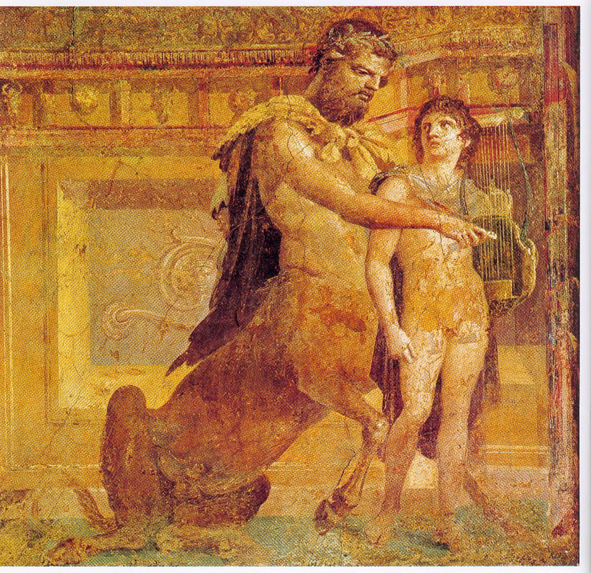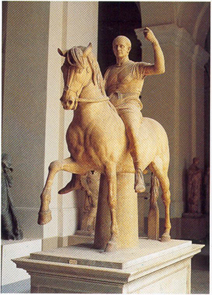 ............................................................


A visit to the ruins of the ancient town of Herculaneum will take you back to remote times, when the little resort town was a vacation place for wealthy Romans, long before the eruption of Mount Vesuvius, in the year 79 a.D., entirely covered it under 25 meters of hot pyroclastic material.
The origins of the city are lost in time and charming legends. According to Dionysius of Halicarnassus the town was settled by demi-god Hercules during one of his journeys. The layout of the buried town is similar to a net, resembling the urban planning of Greek cities and surely the Greek people living in the nearby town of Naples, had their influence on this stunning little city, laid on a platform close to the sea.


*************

We will start our tour from the path leading to the old town. This passes close to the area under which originally there was the beach of
Herculaneum
, which we will see from the above, and the Marina gate, from which people used to access the town. Once we enter the urban area, we will visit houses, shops, thermal baths, worship places, streets and the sports center. Herculaneum was sealed by a hot pyroclastic material, made of liquid gases and molten rocks, which preserved almost everything, from clothes to food (not available) and timber, which is now petrified and still visible in many places inside the town. It is amazing how well wooden windows, doors and shelves are preserved. It is even possible to see traces of wooden stairways and balconies. Dwellings and many public places have still got the original mosaic floors and frescos on the walls, while along the streets there are yet traces of the water supply pipes, drainpipes fixed underneath the roofs, pieces of marble and other house decorations. The sporting area is one of the best preserved examples and it is very interesting. We will have an opportunity to get inside a tunnel excavated into this pyroclastic material which sealed the town and ended the life of its inhabitants in a very frightful way. Slowly slowly we will then ascend towards the exit.
*
*
*
*
*
*
*
*
*
*
*
*
*
*
*
*
*
*
*
*
*
*
*
*
*
*
*
*
*
*
*
*
*
*
*
*
*
*
*
*
*
*
*
*
*
*
*
*
*
*
*
*
*
*
*
*
*
*
*
*
*
*
*
*
*
*
*
*
*
*
*
*
*
*
*
*
*
*
*
*
*
*
*
*
*
*
*
*
*

****************************



For further information please send an e-mail to:


belsannino@gmail.com

or please call the following mobile phone number


339 3982433

Dott.ssa Maria Sannino



Qualified Tourist Guide
English – Japanese – Spanish
Campania Region


******************************************
AMAZING WALKING TOURS



AVELLINO

and SURROUNDINGS
Avellino Town Centre
Tracking Templars
Food and Wine Tasting Tour



BENEVENTO

and SURROUNDINGS
Benevento Town Centre
Food and Wine Tasting Tour



CASERTA

and SURROUNDINGS



Caserta Royal Palace


Casertavecchia
Saint Angelo in Formis
Food and Wine Tasting Tour


NAPLES and SURROUNDINGS

Angevin Castle
Naples (Ancient town)
Naples Capodimonte Royal Palace
Naples National Archaeological Museum
Naples Royal Palace
Naples (Views on the bay)
Castle of the Egg
Saint Elmo Castle
San Martino Charterhouse
Tracking the Templars
Mysterious Naples
Film Location Tours
Art and Religion Tours
Food and Wine Tasting Tour

Baia
Capri
Cumae
Ercolano (The ancient town of Resina)
Ercolano ( Vesuvian villas)
Herculaenum
Ischia
Oplontis
Phlegreian Fields
Pompei
Portici Royal Palace
Pozzuoli
Procida
Sorrento
Sorrento Coast
Stabiae
Food and Wine Tasting Tour



SALERNO

and SURROUNDINGS
Amalfi Coast
Castelcivita Grotto
Cilento Coast


Padula Charterhouse




Paestum


Palinuro Grottos
Food and Wine Tasting Tour