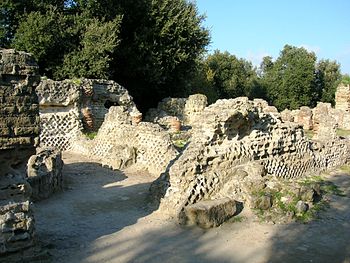 Inhabited as far as the Iron Age by indigenous people, Cumae became the first greek mainland colony settled in the west by Eubean people. The greek city was built, upon old remains of the iron age village, around the year 750 B.C. It was erected on a promontory close to the sea, where the first settlers placed the so-called Acropolis, with its temples of Apollo and Jupiter. Here the legendary Daedalus landed during his flight with Icarus.
The actual excavation area is formed by the Acropolis hill section and the city section placed at the bottom of the rise.
On the way to the city Acropolis hill it is still possible to visit the famous Sybil's Cave, a fascinating trapezoidal tunnel which is considered to be the place where, according to the legend, the important oracle Sybil (a Greek prophetess) used to predict the future to heroes of the past.
Along the way it is still possible to see the massive defensive wall which had been built around the sacred area.
The lower part of the city, placed at the bottom of the cliff, is not always open to the public due to actual excavation projects. It contains the remains of the forum square, a few buildings and a thermal bath complex.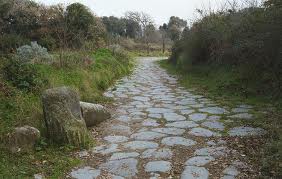 *
*
*
*
*
*
*
*
*
*
*
*
*
*
*
*
*
*
*
*
*
*
*
*
*
*
*
*
*
*
*
*
*
*
*
*




Transport based tour




For further information please send an e-mail to:



belsannino@gmail.com

or please call the following mobile phone number



339 3982433




Dott.ssa Maria Sannino



Qualified Tourist Guide

English – Japanese – Spanish
Campania Region

******************************************
AMAZING WALKING TOURS



AVELLINO

and SURROUNDINGS
Avellino Town Centre



BENEVENTO

and SURROUNDINGS
Benevento Town Centre



CASERTA

and SURROUNDINGS



Caserta Royal Palace


Casertavecchia
Saint Angelo in Formis

NAPLES and SURROUNDINGS

Angevin Castle
Naples (Ancient town)
Naples Capodimonte Royal Palace
Naples (Castles and Royal Palaces)
Naples National Archaeological Museum
Naples Royal Palace
Naples (Views on the bay)
Castle of the Egg
Saint Elmo Castle
San Martino Charterhouse

Baia
Capri
Cumae
Ercolano (The ancient town of Resina)
Ercolano ( Vesuvian villas)
Herculaenum
Ischia
Oplontis
Phlegreian Fields
Pompei
Portici Royal Palace
Pozzuoli
Procida
Sorrento
Sorrento Coast
Stabiae


SALERNO and SURROUNDINGS
Amalfi Coast
Castelcivita Grotto
Cilento Coast
Padula Charterhouse
Paestum
Palinuro Grottos