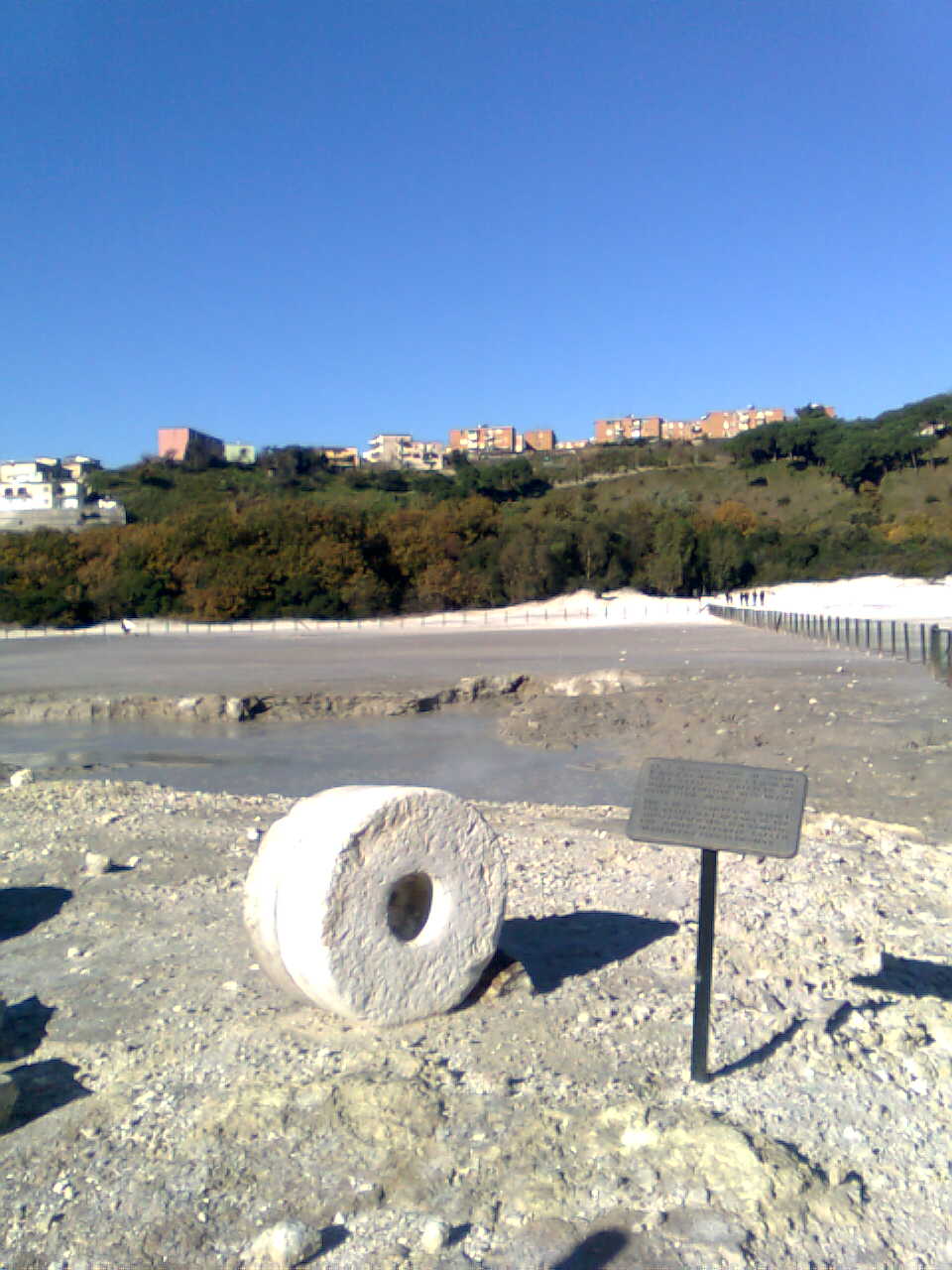 Once called Dicearchia, Pozzuoli is still a fascinating town where new and old are mixed together to form an extraordinary fusion of past and present.
We will visit the famous Macellum, half submerged by the water of the nearby sea. This building was originally thought to be the Temple of Serapis, but it then proved to be the market, built during the 1st century b. C. It testifies the importance of Pozzuoli as a commercial centre since the greek time.
We will then get to the Amphitheatre, built during the flavian age, which is considered to be the world's third largest one.
What makes Pozzuoli unique, is the Solfatara, the volcano from which vapours and steaming mud are still coming out, so we will have a stroll inside it.
Pozzuoli has also got a splendid waterfront, flanked by modern pub, restaurants and bars, where different generations use to spend their free time. We can then decide to stop here for something to eat or for a drink or an ice-cream, or just to see the fabulous view of one of the most beautiful bays.
Duration of visit: 4 hours
*
*
*
*
*
*
*
*
*
*
*
*
*
*
*
*
*
*
*
*
*
*
*
*
*
*
*
*
*
*
*
*
*
*
*
*
*
*
*
*
*
*
*
*
*
*
*
*
*
*
*
*
*
*
*
*
*
*





Transport based tour




For further information please send an e-mail to:



belsannino@gmail.com

or please call the following mobile phone number



339 3982433




Dott.ssa Maria Sannino



Qualified Tourist Guide

English – Japanese – Spanish - French - German
Campania Region

******************************************
AMAZING WALKING TOURS



AVELLINO

and SURROUNDINGS
Avellino Town Centre
Tracking Templars
Food and Wine Tasting Tour



BENEVENTO

and SURROUNDINGS
Benevento Town Centre
Food and Wine Tasting Tour



CASERTA

and SURROUNDINGS



Caserta Royal Palace


Casertavecchia
Saint Angelo in Formis
Food and Wine Tasting Tour


NAPLES and SURROUNDINGS

Angevin Castle
Naples (Ancient town)
Naples Capodimonte Royal Palace
Naples National Archaeological Museum
Naples Royal Palace
Naples (Views on the bay)
Castle of the Egg
Saint Elmo Castle
San Martino Charterhouse
Tracking the Templars
Mysterious Naples
Film Location Tours
Art and Religion Tours
Food and Wine Tasting Tour

Baia
Capri
Cumae
Ercolano (The ancient town of Resina)
Ercolano ( Vesuvian villas)
Herculaenum
Ischia
Oplontis
Phlegreian Fields
Pompei
Portici Royal Palace
Pozzuoli
Procida
Sorrento
Sorrento Coast
Stabiae
Food and Wine Tasting Tour



SALERNO

and SURROUNDINGS
Amalfi Coast
Castelcivita Grotto
Cilento Coast


Padula Charterhouse




Paestum


Palinuro Grottos
Food and Wine Tasting Tour