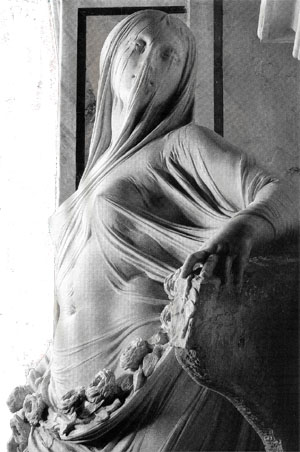 Join us to explore Naples mysterious side.

Every city has got its own mysteries and Naples is one of those citiies where mysteries just mix with legends, religion and superstition.
Starting from Gesù Nuovo square we will track many of those mysterious signs which, for a very long time, have given the town a sense of mystery. The layout of the ancient town of Neapolis, which resembles a chessboard, is considered to be the "womb" of Naples where the real life of "Neapolitan" people is represented as if it was an open air stage.
Testimonials of the esotheric character of the town can be found on the walls of greek-roman remains as well as on those of more modern times. Here, in the centre of the famous "Neapolis", many mysterious facts took place in the past. A few are easily explicable, but many are still a mystery, while many others require a long time to get a solution.

Highlights: Gesù Nuovo church, Santa Chiara church, San Domenico square, San Severo Chapel, Pietrasanta, S. Maria del Purgatorio ad Arco, San Gregorio Armeno street.

*
*
*
*
*
*
*
*
*
*
*
*
*
*
*
*
*
*
*
*
*
*
*
*
*
*
*
*
*
*
*
*
*
*
*
*





For further information please send an e-mail to:



belsannino@gmail.com

or please call the following mobile phone number



339 3982433

Dott.ssa Maria Sannino



Qualified Tourist Guide

English – Japanese – Spanish - French - German
Campania Region

***********************************
AMAZING WALKING TOURS



AVELLINO

and SURROUNDINGS
Avellino Town Centre
Tracking Templars
Food and Wine Tasting Tour



BENEVENTO

and SURROUNDINGS
Benevento Town Centre
Food and Wine Tasting Tour



CASERTA

and SURROUNDINGS



Caserta Royal Palace


Casertavecchia
Saint Angelo in Formis
Food and Wine Tasting Tour


NAPLES and SURROUNDINGS

Angevin Castle
Naples (Ancient town)
Naples Capodimonte Royal Palace
Naples National Archaeological Museum
Naples Royal Palace
Naples (Views on the bay)
Castle of the Egg
Saint Elmo Castle
San Martino Charterhouse
Tracking the Templars
Mysterious Naples
Film Location Tours
Art and Religion Tours
Food and Wine Tasting Tour

Baia
Capri
Cumae
Ercolano (The ancient town of Resina)
Ercolano ( Vesuvian villas)
Herculaenum
Ischia
Oplontis
Phlegreian Fields
Pompei
Portici Royal Palace
Pozzuoli
Procida
Sorrento
Sorrento Coast
Stabiae
Food and Wine Tasting Tour



SALERNO

and SURROUNDINGS
Amalfi Coast
Castelcivita Grotto
Cilento Coast


Padula Charterhouse




Paestum


Palinuro Grottos
Food and Wine Tasting Tour