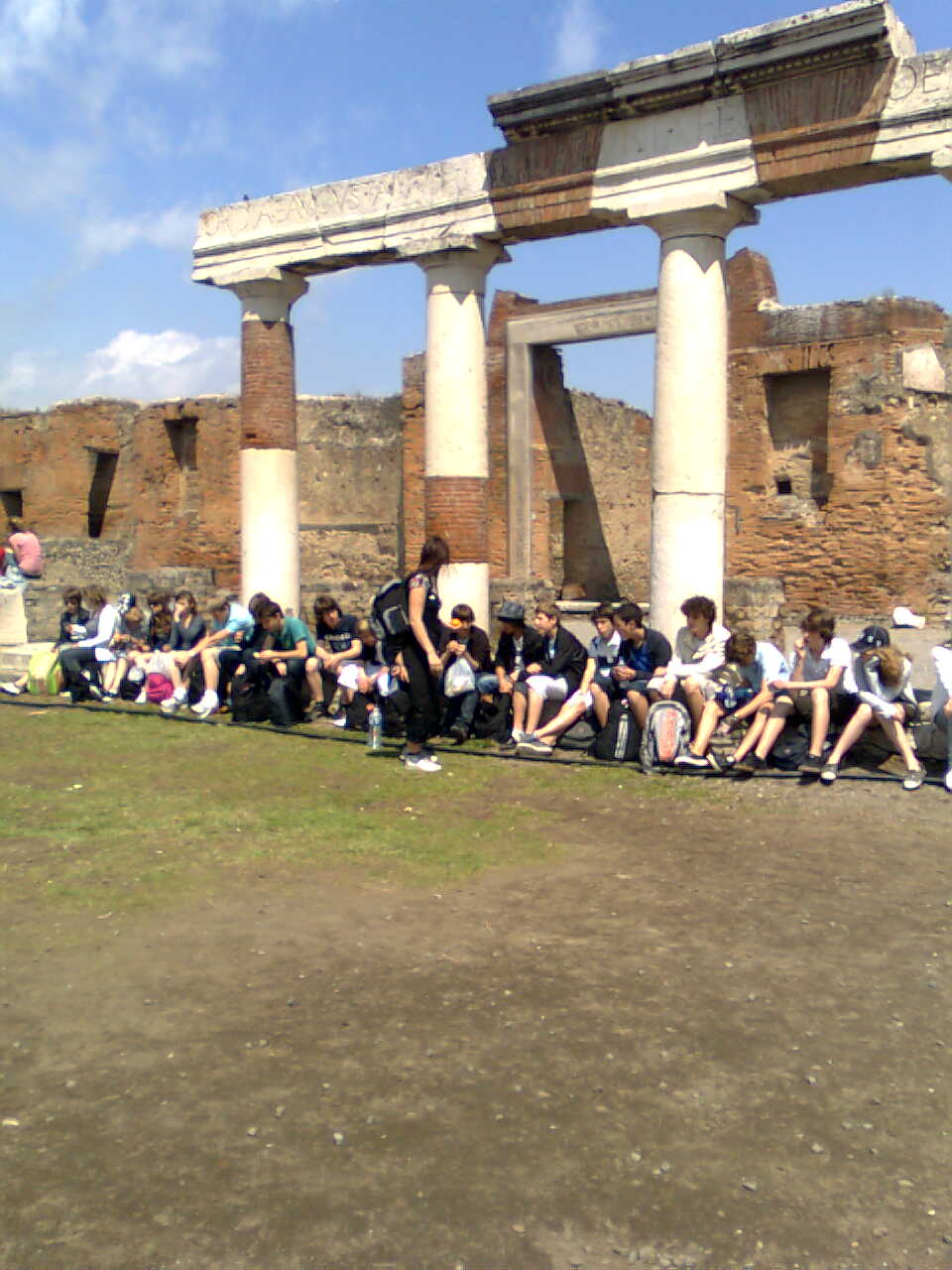 ............................................................


Before Vesuvius blew, in the year 79 a. D, the sea reached the bottom of the hill on which the ancient town of Pompei was built. Close to the Marina gate, which was one of the main entrances to the city, we can still trace the harbour where the rings into the wall testify that ships were here tied to the dock. Entering the city, we will soon imagine the life of two thousand years ago. The streets were always flooded with gushing water to keep them clean, and in the middle of the road we still see the stepping stones that let pedestrians cross without getting wet. Soon at the end of the Marina street, we find the Forum square, which was the place where Pompeians used to gather and meet with merchants arriving from different countries. The forum was the center of Pompei's political and social life, and even business took place in it: shops, temples, the courthouse, the city hall, the markets and all the most important buildings surrounded it. Walking along the streets, where tracks of sliding doors are still visible, we will soon make a journey into the past. We will visit houses, thermal bath complexes, the famous "lupanare" (the brothel), the bakery, the theatre where the acoustic is still perfect as it was two thousand years ago. It will surely be an exciting experience.
Please wear appropriate clothing for outdoor activities and comfortable shoes for walking on uneven, cobbled paved road.
*
*
*
*
*
*
*
*
*
*
*
*
*
*
*
*
*
*
*
*
*
*
*
*
*
*
*
*
*
*
*
*
*
*
*
*
*
*
*
*
*
*
*
*
*
*
*
*
*
*
*
*
*
*
*
*
*
*
*
*
*
*
*
*
*
*
*
*
*

****************************



For further information please send an e-mail to:


belsannino@gmail.com

or please call the following mobile phone number


339 3982433

Dott.ssa Maria Sannino



Qualified Tourist Guide
English – Japanese – Spanish
Campania Region

******************************************
AMAZING WALKING TOURS






AVELLINO

and SURROUNDINGS
Avellino Town Centre
Tracking Templars
Food and Wine Tasting Tour



BENEVENTO

and SURROUNDINGS
Benevento Town Centre
Food and Wine Tasting Tour



CASERTA

and SURROUNDINGS



Caserta Royal Palace


Casertavecchia
Saint Angelo in Formis
Food and Wine Tasting Tour


NAPLES and SURROUNDINGS

Angevin Castle
Naples (Ancient town)
Naples Capodimonte Royal Palace
Naples National Archaeological Museum
Naples Royal Palace
Naples (Views on the bay)
Castle of the Egg
Saint Elmo Castle
San Martino Charterhouse
Tracking the Templars
Mysterious Naples
Film Location Tours
Art and Religion Tours
Food and Wine Tasting Tour

Baia
Capri
Cumae
Ercolano (The ancient town of Resina)
Ercolano ( Vesuvian villas)
Herculaenum
Ischia
Oplontis
Phlegreian Fields
Pompei
Portici Royal Palace
Pozzuoli
Procida
Sorrento
Sorrento Coast
Stabiae
Food and Wine Tasting Tour



SALERNO

and SURROUNDINGS
Amalfi Coast
Castelcivita Grotto
Cilento Coast


Padula Charterhouse




Paestum


Palinuro Grottos
Food and Wine Tasting Tour