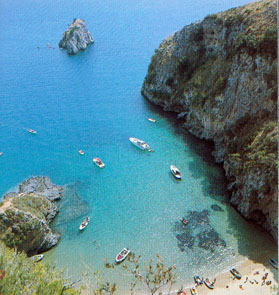 Palinuro, a small jewel on the Cilento coast, is renowed, all over the world, for its beautiful grottos along the entire coast. The blue grotto, the grotto of the bones and others are very evocative cavities which are accessible only by boat. The tour can only be performed during the summer.
The visit starts from the Blue grotto, a very large cave where sunlight entering through the water that fills the cave gives it an extraordinary blue light. The following grotto is the Blood cave which has concretions similar to blood flowing. Immediately next to it there is the Grotto of Monks with stalagtites and stalagmites resemblig the shape of monks praying. The subsequent grottos are the Silver Cave and the Sulphurous Cave. A beautiful beach in the area called the Buondormire, will be the ideal place for a bath. Soon after the break we will continue our tour heading towards the Cave of bones, where a skeleton of prehestoric times is embedded in the rock and the Natural Arch with its beautiful beach.
We will return by boat to the beach of Palinuro.
The tour can be combined with a visit to the Archaeological site of Paestum.


*
*
*
*
*
*
*
*
*
*
*
*
*
*
*
*
*
*
*
*
*
*
*
*
*
*
*
*
*
*
*
*
*
*
*
*



For further information please send an e-mail to:



belsannino@gmail.com

or please call the following mobile phone number



339 3982433

Dott.ssa Maria Sannino



Qualified Tourist Guide

English – French - German - Japanese – Spanish
Campania Region

www.ercolanonline.it
www.herculaneum.net
www.mariasannino.com
www.qualifieditalianguides.com
www.smettidifumare.org


***********************************
AMAZING WALKING TOURS





AVELLINO

and SURROUNDINGS
Avellino Town Centre
Tracking Templars
Food and Wine Tasting Tour



BENEVENTO

and SURROUNDINGS
Benevento Town Centre
Food and Wine Tasting Tour



CASERTA

and SURROUNDINGS



Caserta Royal Palace


Casertavecchia
Saint Angelo in Formis
Food and Wine Tasting Tour


NAPLES and SURROUNDINGS

Angevin Castle
Naples (Ancient town)
Naples Capodimonte Royal Palace
Naples National Archaeological Museum
Naples Royal Palace
Naples (Views on the bay)
Castle of the Egg
Saint Elmo Castle
San Martino Charterhouse
Tracking the Templars
Mysterious Naples
Film Location Tours
Elena Ferrante's tour
Art and Religion Tours
Food and Wine Tasting Tour

Baia
Capri
Cumae
Ercolano (The ancient town of Resina)
Ercolano ( Vesuvian villas)
Herculaenum
Ischia
Oplontis
Phlegreian Fields
Pompei
Portici Royal Palace
Pozzuoli
Procida
Sorrento
Sorrento Coast
Stabiae
Food and Wine Tasting Tour



SALERNO

and SURROUNDINGS
Amalfi Coast
Castelcivita Grotto
Cilento Coast


Padula Charterhouse




Paestum


Palinuro Grottos
Food and Wine Tasting Tour