NAPLES
Tracking the Templars
^^^^^^^^^^^^^^^^^^^^^^^^^^^
TOUR LENGHT
: 2 HRS
^^^^^^^^^^^^^^^^^^^^^^^^^^^




Walking tour + transport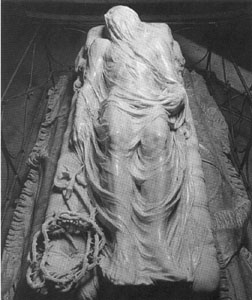 There are very fascinating places in Naples ancient centre which were visited and inhabited by the Templars, the famous knights, protectors of the crusaders visiting the Holy Land.
The Templars' order was established in 1118 by nine knights, after the conquest of Jerusalem. Those monks were originally supposed to help pilgrims who decided to settle in the Midde East, after visiting Jerusalem. Soon after a few years, those monks established themself along the pilmgrage roads, building monasteries and other buildings in order to take care of the pilgrims. Various symbols representing Templar Knights were found on the walls of narrow tunnels excavated underneath the ancient town centre of Naples, making us believe that the Templars were using those caves to protect pilgrims travelling towards Jerusalem. Many evidences of the passage of Templars in Naples can be found along the route of our tour.

The tour can be combined with a visit to the noteworthy mysterious Saint Severo Chapel.






*
*
*
*
*
*
*
*
*
*
*
*
*
*
*
*
*
*
*
*
*
*
*
*
*
*
*
*
*
*
*
*
*
*
*
*





For further information please send an e-mail to:



belsannino@gmail.com

or please call the following mobile phone number



339 3982433

Dott.ssa Maria Sannino



Qualified Tourist Guide

English – Japanese – Spanish - French - German
Campania Region

***********************************
AMAZING WALKING TOURS





AVELLINO

and SURROUNDINGS
Avellino Town Centre
Tracking Templars
Food and Wine Tasting Tour



BENEVENTO

and SURROUNDINGS
Benevento Town Centre
Food and Wine Tasting Tour



CASERTA

and SURROUNDINGS



Caserta Royal Palace


Casertavecchia
Saint Angelo in Formis
Food and Wine Tasting Tour


NAPLES and SURROUNDINGS

Angevin Castle
Naples (Ancient town)
Naples Capodimonte Royal Palace
Naples National Archaeological Museum
Naples Royal Palace
Naples (Views on the bay)
Castle of the Egg
Saint Elmo Castle
San Martino Charterhouse
Tracking the Templars
Mysterious Naples
Film Location Tours
Art and Religion Tours
Food and Wine Tasting Tour

Baia
Capri
Cumae
Ercolano (The ancient town of Resina)
Ercolano ( Vesuvian villas)
Herculaenum
Ischia
Oplontis
Phlegreian Fields
Pompei
Portici Royal Palace
Pozzuoli
Procida
Sorrento
Sorrento Coast
Stabiae
Food and Wine Tasting Tour



SALERNO

and SURROUNDINGS
Amalfi Coast
Castelcivita Grotto
Cilento Coast


Padula Charterhouse




Paestum


Palinuro Grottos
Food and Wine Tasting Tour