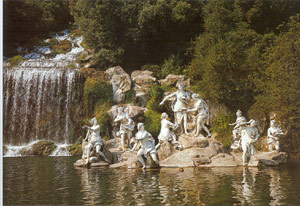 The gorgeous Royal Palace in Caserta was built in 1752 by order of Charles III of Bourbon. It is one of the most fascinating Royal Palaces in Italy and it is a Unesco site.
The architect, Luigi Vanvitelli, managed to accomplish the will of the king who requested a palace resembling the French royal palace of Versailles.
The large building is surrounded by a huge and beautiful park, embellished by impressive fountains decorated by marble statues and by an amazing waterfall descending from the mountain.
The royal residence is a huge five storey building which has got 1200 rooms. The Royal apartments, placed on the noble floor, are preceded by a marble staircase, a vestibule and a chapel. The rooms still host the original furniture, a large library and a precious nativity crib.





*
*
*
*
*
*
*
*
*
*
*
*
*
*
*
*
*
*
*
*
*
*
*
*
*
*
*
*
*
*
*
*
*
*
*
*





For further information please send an e-mail to:



belsannino@gmail.com

or please call the following mobile phone number



339 3982433

Dott.ssa Maria Sannino



Qualified Tourist Guide

English – Japanese – Spanish - French -German
Campania Region

***********************************
AMAZING WALKING TOURS





AVELLINO

and SURROUNDINGS
Avellino Town Centre
Tracking Templars
Food and Wine Tasting Tour



BENEVENTO

and SURROUNDINGS
Benevento Town Centre
Food and Wine Tasting Tour



CASERTA

and SURROUNDINGS



Caserta Royal Palace


Casertavecchia
Saint Angelo in Formis
Food and Wine Tasting Tour


NAPLES and SURROUNDINGS

Angevin Castle
Naples (Ancient town)
Naples Capodimonte Royal Palace
Naples National Archaeological Museum
Naples Royal Palace
Naples (Views on the bay)
Castle of the Egg
Saint Elmo Castle
San Martino Charterhouse
Tracking the Templars
Mysterious Naples
Film Location Tours
Art and Religion Tours
Food and Wine Tasting Tour

Baia
Capri
Cumae
Ercolano (The ancient town of Resina)
Ercolano ( Vesuvian villas)
Herculaenum
Ischia
Oplontis
Phlegreian Fields
Pompei
Portici Royal Palace
Pozzuoli
Procida
Sorrento
Sorrento Coast
Stabiae
Food and Wine Tasting Tour



SALERNO

and SURROUNDINGS
Amalfi Coast
Castelcivita Grotto
Cilento Coast


Padula Charterhouse




Paestum


Palinuro Grottos
Food and Wine Tasting Tour